Shall we dance the...
Ballroom, Latin and Popular Sequence Dancing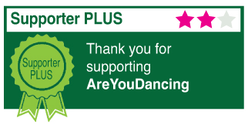 About Shall we dance the...
My name is Glenn Bayliss and I started Ballroom and Latin dancing at the young age of 8 and have enjoyed it ever since.
I started teaching under the name of Shall We Dance the... in 2008 in Dorset, offering Ballroom and and Latin Dancing, Popular Sequence, old tyme, line dancing, wedding first dance, workshops and private lessons to individuals and groups.
I believe it is important to keep mobile and teach ballroom and Latin dancing for wheelchair users and visit the elderly in care homes.
Also I can DJ at your event and arrange demonstrations
Contact Name: Glenn Bayliss
Dance Styles: Cha Cha Cha (Ballroom), Foxtrot, Jive (Ballroom), Modern Tango, Old Time Dancing, Paso Doble, Quickstep, Rumba, Samba, Popular Sequence, Waltz
Roles: Dance Teacher, Regular Dance Classes, Wedding First Dance, Private Lessons, DJ, Dance Performance
Events: Dance, Class
Main Area: Dorset
Forthcoming Events
Date
Event Name/Venue
Description/Dance Styles
shall we dance the...
The Prince Regent Hotel
Dance
Tea Dance
Cha Cha Cha (Ballroom), Foxtrot, Jive (Ballroom), Modern Tango, Paso Doble, Quickstep, Rumba, Samba, Popular Sequence, Waltz, Modern Sequence
Shall We Dance The...
Charmouth Village hall
Class
Ballroom and Latin dance classes
Cha Cha Cha (Ballroom), Foxtrot, Jive (Ballroom), Modern Tango, Paso Doble, Quickstep, Rumba, Samba, Waltz
Shall We Dance
Guild hall
Class
Dance classes for Ballroom and Latin
Cha Cha Cha (Ballroom), Foxtrot, Jive (Ballroom), Modern Tango, Paso Doble, Quickstep, Rumba, Samba, Waltz
shall we dance the...
The Prince Regent Hotel
Dance
Tea Dance
Cha Cha Cha (Ballroom), Foxtrot, Jive (Ballroom), Modern Tango, Paso Doble, Quickstep, Rumba, Samba, Popular Sequence, Waltz, Modern Sequence
Shall We Dance The...
Charmouth Village hall
Class
Ballroom and Latin dance classes
Cha Cha Cha (Ballroom), Foxtrot, Jive (Ballroom), Modern Tango, Paso Doble, Quickstep, Rumba, Samba, Waltz
Shall We Dance
Guild hall
Class
Dance classes for Ballroom and Latin
Cha Cha Cha (Ballroom), Foxtrot, Jive (Ballroom), Modern Tango, Paso Doble, Quickstep, Rumba, Samba, Waltz
shall we dance the...
The Prince Regent Hotel
Dance
Tea Dance
Cha Cha Cha (Ballroom), Foxtrot, Jive (Ballroom), Modern Tango, Paso Doble, Quickstep, Rumba, Samba, Popular Sequence, Waltz, Modern Sequence
Shall We Dance The...
Charmouth Village hall
Class
Ballroom and Latin dance classes
Cha Cha Cha (Ballroom), Foxtrot, Jive (Ballroom), Modern Tango, Paso Doble, Quickstep, Rumba, Samba, Waltz
Shall We Dance
Guild hall
Class
Dance classes for Ballroom and Latin
Cha Cha Cha (Ballroom), Foxtrot, Jive (Ballroom), Modern Tango, Paso Doble, Quickstep, Rumba, Samba, Waltz
shall we dance the...
The Prince Regent Hotel
Dance
Tea Dance
Cha Cha Cha (Ballroom), Foxtrot, Jive (Ballroom), Modern Tango, Paso Doble, Quickstep, Rumba, Samba, Popular Sequence, Waltz, Modern Sequence