Just Jive Lindy Hop
We are Jim Hannaway, Sarah Vernon, Lin Hooper, Gail Newman & John Hall, teaching Jive & Lindy Hop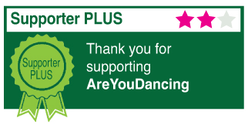 About Just Jive Lindy Hop
Most of our teaching has been in Wiltshire, Gloucestershire & Oxfordshire although we have also taught at many weekend events around the country.
Just Jive Lindy Hop are Jim Hannaway, Sarah Vernon, Lin Hooper, Gail Newman & John Hall, Shaun & Laure-Astrid Barker.
Our teaching team has over 25 years of dancing experience between them if anyone can teach you we can.
We have taught hundreds of people to Jive and Lindy Hop over the years.
Dancing is fun, gets you fit, you meet new people and learn something at the same time. Everything is broken down and taught step by step at a steady pace.
The atmosphere is relaxed and friendly and everything is done in a light hearted manner with the emphasis on fun.
We teach three levels: Beginners, Intermediate 1 and Intermediate 2.
Contact Name: Jim Hannaway
Dance Styles: 1940s Jive, Balboa, Boogie Woogie, Charleston, Collegiate Shag, Jazz Steps, Lindy Hop, Modern Jive, Rock n Roll
Roles: Event Organiser, Dance Teacher, Regular Dance Classes, Wedding First Dance, Private Lessons, DJ, Dance Performance
Events: Dance, Workshop, Class
Main Area: Gloucestershire
Website: http://www.justjive.com
Forthcoming Events
Date
Event Name/Venue
Description/Dance Styles
Strolls Workshop
Kings Stanley Village Hall
Workshop
Learn The New York and Charleston Strolls.
1940s Jive, Balboa, Charleston, Collegiate Shag, Jazz Steps, Lindy Hop, Rock n Roll, Smooth Modern Jive
Balboa Improvers & Lindy Techinque.
Kings Stanley Village Hall
Class
Balboa Improvers classes and Lindyhop Technique workshop
Balboa, Charleston, Jazz Steps, Lindy Hop
LindyHop Justjive King's Stanley
Kings Stanley Village Hall
Class
Lindy Hop 7:15 Beginners - 8:15 Intermediate 1
Lindy Hop
Jive with: JustJiveLindyHop
St Paul's Church Centre
Class
Jive: Beginners 7pm. Intermediate 1: 8pm. Intermediate 2: 9pm.
1940s Jive, Jazz Steps, Lindy Hop
SwingJive JustJiveLindyHop
The Tetbury Goods Shed.
Class
Beginners 7.00pm Intermediates 8.00pm
1940s Jive, Charleston, Jazz Steps, Lindy Hop, Rock n Roll
Lindy Hop - Cam, Dursley
Arthur S Winterbotham Memorial Hall
Class
Swing Jive Classes. Beginner and Intermediate Level
1940s Jive, Charleston, Jazz Steps, Lindy Hop, Modern Jive
Jive with: JustJiveLindyHop
The Subscription Rooms Stroud
Class
Jive: 7:00 Beginners . 8:00 Intermediate 1 .
1940s Jive, Balboa, Charleston, Jazz Steps, Lindy Hop
Friday Night Hop, Dursley
Chantry Centre (Listers Hall)
Dance
8:00 - 11:00. Price £8:00. All styles welcome.
1940s Jive, Balboa, Boogie Woogie, Charleston, Collegiate Shag, Lindy Hop, Modern Jive, Rock n Roll
LindyHop Justjive King's Stanley
Kings Stanley Village Hall
Class
Lindy Hop 7:15 Beginners - 8:15 Intermediate 1
Lindy Hop
Jive with: JustJiveLindyHop
St Paul's Church Centre
Class
Jive: Beginners 7pm. Intermediate 1: 8pm. Intermediate 2: 9pm.
1940s Jive, Jazz Steps, Lindy Hop