DanceworkZ
DanceworkZ is a ballroom and latin dance school working in Watford and Chigwell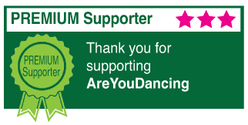 About DanceworkZ
DanceworkZ is a ballroom and latin school run by multiple British Champions providing classes, tea dances, social dances, and private tuition for first time dancers to competitive dancers. Professionals with the Allied Dancing Association and ISTD we also offer medallist tuition and teacher/ student competition dancing and support.
We work in both Watford and Chigwell.
Mondays - Dance Class at Chigwell Hall 8.30pm-9.30pm-All Levels £10pp
Tuesdays- Tea Dance at Beechen Grove Baptist Church
Watford 2pm -4.15pm £5pp
Wednesdays - Chigwell Hall 7.30pm Contact Linda for details.
Fridays - Beechen Grove Baptist Church Watford- Improvers Dance Class 7.30pm-8.30pm £10pp; Beginners Dance Class 8.30pm - 9.15pm £8pp. Practice Night 8.45pm - 10.30pm
Saturdays - Once a Month Social Night at Beechen Grove Baptist Church Watford. 8pm-11pm. Great Night Out.£8pp
Next Saturday Night Socials 13th January; 10th Febtuary;31st March; 14th April Spring Ball Ticket Only; 12th May; Contact us for more details and dates.
Contact Name: Linda Chatterley
Dance Styles: Cha Cha Cha (Ballroom), Foxtrot, Jive (Ballroom), Modern Tango, Paso Doble, Quickstep, Rumba, Samba, Popular Sequence, Viennese Waltz, Waltz
Roles: Event Organiser, Dance Teacher, Regular Dance Classes, Wedding First Dance, Private Lessons, Dance Performance
Events: Dance
Main Area: Hertfordshire
Forthcoming Events
Date
Event Name/Venue
Description/Dance Styles
Watford Weekly Tea Dance
Beechen Grove Baptist Church Main Hall
Dance
Great weekly tea dance. Ballroom latin and sequence. Lovely floor and music.
Cha Cha Cha (Ballroom), Foxtrot, Jive (Ballroom), Modern Tango, Paso Doble, Quickstep, Rumba, Samba, Popular Sequence, Viennese Waltz, Waltz, Modern Sequence
Watford Weekly Tea Dance
Beechen Grove Baptist Church Main Hall
Dance
Great weekly tea dance. Ballroom latin and sequence. Lovely floor and music.
Cha Cha Cha (Ballroom), Foxtrot, Jive (Ballroom), Modern Tango, Paso Doble, Quickstep, Rumba, Samba, Popular Sequence, Viennese Waltz, Waltz, Modern Sequence
DanceworkZ- NEW Tea Dance
NEW Tea Dance - Chingford by Danceworkz
Dance
A New Tea Dance in Chingford by DanceworkZ. Ballroom, Latin, Sequence
Cha Cha Cha (Ballroom), Foxtrot, Jive (Ballroom), Modern Tango, Paso Doble, Quickstep, Rumba, Samba, Popular Sequence, Viennese Waltz, Waltz, Modern Sequence
Watford Weekly Tea Dance
Beechen Grove Baptist Church Main Hall
Dance
Great weekly tea dance. Ballroom latin and sequence. Lovely floor and music.
Cha Cha Cha (Ballroom), Foxtrot, Jive (Ballroom), Modern Tango, Paso Doble, Quickstep, Rumba, Samba, Popular Sequence, Viennese Waltz, Waltz, Modern Sequence
Watford Weekly Tea Dance
Beechen Grove Baptist Church Main Hall
Dance
Great weekly tea dance. Ballroom latin and sequence. Lovely floor and music.
Cha Cha Cha (Ballroom), Foxtrot, Jive (Ballroom), Modern Tango, Paso Doble, Quickstep, Rumba, Samba, Popular Sequence, Viennese Waltz, Waltz, Modern Sequence
Watford Saturday Night Dances
Beechen Grove Baptist Church Main Hall
Dance
Saturday Night Social Dances . 8pm - 11pm. Ballroom Latin Sequence some Argentine Tango.
Cha Cha Cha (Ballroom), Foxtrot, Jive (Ballroom), Modern Tango, Paso Doble, Quickstep, Rumba, Samba, Popular Sequence, Viennese Waltz, Waltz, Modern Sequence
Watford Weekly Tea Dance
Beechen Grove Baptist Church Main Hall
Dance
Great weekly tea dance. Ballroom latin and sequence. Lovely floor and music.
Cha Cha Cha (Ballroom), Foxtrot, Jive (Ballroom), Modern Tango, Paso Doble, Quickstep, Rumba, Samba, Popular Sequence, Viennese Waltz, Waltz, Modern Sequence
Watford Weekly Tea Dance
Beechen Grove Baptist Church Main Hall
Dance
Great weekly tea dance. Ballroom latin and sequence. Lovely floor and music.
Cha Cha Cha (Ballroom), Foxtrot, Jive (Ballroom), Modern Tango, Paso Doble, Quickstep, Rumba, Samba, Popular Sequence, Viennese Waltz, Waltz, Modern Sequence
Watford Weekly Tea Dance
Beechen Grove Baptist Church Main Hall
Dance
Great weekly tea dance. Ballroom latin and sequence. Lovely floor and music.
Cha Cha Cha (Ballroom), Foxtrot, Jive (Ballroom), Modern Tango, Paso Doble, Quickstep, Rumba, Samba, Popular Sequence, Viennese Waltz, Waltz, Modern Sequence
DanceworkZ- NEW Tea Dance
NEW Tea Dance - Chingford by Danceworkz
Dance
A New Tea Dance in Chingford by DanceworkZ. Ballroom, Latin, Sequence
Cha Cha Cha (Ballroom), Foxtrot, Jive (Ballroom), Modern Tango, Paso Doble, Quickstep, Rumba, Samba, Popular Sequence, Viennese Waltz, Waltz, Modern Sequence