Romeo Dance Academy Ltd
A multi-disciplinary Dance Academy offering a range of classes and events all year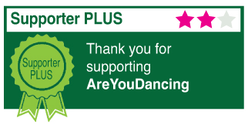 About Romeo Dance Academy Ltd
Romeo Dance Academy Ltd (formerly known as JustDance Academy Ltd) was founded in 2009 by Accursio Romeo.
Romeo Dance Academy is now on its ninth year, and they have acquired and renovated their own venue, creating the first full-sized, purpose-build Ballroom Studio in Milton Keynes, situated conveniently on the first floor of the Old Bus Station opposite to Central Milton Keynes Station. The venue features two studios - both equipped with sprung floors; a fully-licensed bar.
As well as Ballroom and Latin, the Academy teach Hip Hop, Ballet, Breakdancing, Zumba, Salsa & Bachata. These sessions cater to all and all abilities, and there is no need to book.
Fiesta Central - events every last Saturday of the month - Salsa, Bachata & Kizomba social dancing all night with guest teachers for special editions.
From teaching absolute beginners to coaching world-class top competitors to crafting choreography for stage productions, Accursio has always been committed to achieving excellence by delivering a hands-on approach -- especially now that the Academy has acquired a permanent home, our team is striving more than ever to unleash our students' potential at every opportunity. With that in mind, the Academy has a strong emphasis on inclusivity on all spectrums, which is why same-sex couples are welcomed with open arms.
Contact Name: Accursio Romeo
Dance Styles: Argentine Tango, Bachata, Ballet, Cha Cha Cha (Ballroom), Cha Cha (Club), Flamenco, Foxtrot, Jive (Ballroom), Mambo, Modern Jive, Modern Tango, Non Partner (With Disability), Old Time Dancing, Partner (with Disability), Paso Doble, Quickstep, Rumba, Salsa, Samba, Popular Sequence, Street/Hip-Hop, Viennese Waltz, Waltz, Milonga, Modern Sequence, Fitsteps
Roles: Event Organiser, Dance Teacher, Regular Dance Classes, Wedding First Dance, Private Lessons, Child Classes, Dance Performance, Dance Shoes, Dance Clothes, Venue for Hire
Events: Dance
Main Area: Buckinghamshire
Website: http://www.romeodanceacademy.com
Forthcoming Events
Date
Event Name/Venue
Description/Dance Styles
Strictly Ballroom & Latin Social
Romeo Dance Academy
Dance
A multi-disciplinary Dance Academy offering a range of classes and events all year
Argentine Tango, Cha Cha Cha (Ballroom), Foxtrot, Jive (Ballroom), Modern Tango, Paso Doble, Quickstep, Rumba, Samba, Popular Sequence, Viennese Waltz, Waltz
Fiesta Central Salsa, Bachata &more
Romeo Dance Academy
Dance
A multi-disciplinary Dance Academy offering a range of classes and events all year
Bachata, Cha Cha (Club), Mambo, Merengue, Salsa
Strictly Ballroom & Latin Social
Romeo Dance Academy
Dance
A multi-disciplinary Dance Academy offering a range of classes and events all year
Argentine Tango, Cha Cha Cha (Ballroom), Foxtrot, Jive (Ballroom), Modern Tango, Paso Doble, Quickstep, Rumba, Samba, Popular Sequence, Viennese Waltz, Waltz
Fiesta Central Salsa, Bachata &more
Romeo Dance Academy
Dance
A multi-disciplinary Dance Academy offering a range of classes and events all year
Bachata, Cha Cha (Club), Mambo, Merengue, Salsa
Strictly Ballroom & Latin Social
Romeo Dance Academy
Dance
A multi-disciplinary Dance Academy offering a range of classes and events all year
Argentine Tango, Cha Cha Cha (Ballroom), Foxtrot, Jive (Ballroom), Modern Tango, Paso Doble, Quickstep, Rumba, Samba, Popular Sequence, Viennese Waltz, Waltz
Fiesta Central Salsa, Bachata &more
Romeo Dance Academy
Dance
A multi-disciplinary Dance Academy offering a range of classes and events all year
Bachata, Cha Cha (Club), Mambo, Merengue, Salsa