Ceroc Spirit
Ceroc is best described as social dancing (jive) with hints of Latin and Tango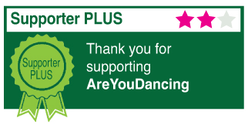 About Ceroc Spirit
Who are we?
We are a group of people aged 18-80 who decided they wanted to learn to dance at Ceroc...and suceeded having a lot of fun along the way. We come from all different walks of life so age or ability is no barrier.
Jive is best described as dance designed to be easy with flavours of Salsa & Latin. it fun, relaxed and has very little complicated footwork :-)
It can be danced to any music from 60's to modern chart and as you don't need a partner to join you can come on your own. It's ideal if you are new to your area, want to expand your existing social circle, have some fun and get fit all at the same time.
There is no need to book, just come along. Beginners are looked after from the minute they show up and are made very welcome. No special clothes required. Just wear Something comfortable (trainers best avoided)
There are 4 venues in and around Cambridge
Monday: Spirella Building, Bridge Road, Letchworth, SG6 4ET - free parking
Tuesday: St Neots:- Priory Centre, Priory Lane, St Neots, PE19 2BH - free parking
Tuesday: Storey Field's Centre, Eddington Avenue, CB13 1AA - free parking
Wednesday: Fowlmere Village Hall, Chishall Road, Fowlmere = free parking
Contact Name: Alma Neville
Dance Styles: Blues, Contemporary, Contemporary Blues, General Dance Fitness
Roles: Event Organiser, Dance Teacher, Regular Dance Classes, Wedding First Dance, Private Lessons
Events: Class
Main Area: Cambridgeshire
Website: http://www.cerocspirit.co.uk
Forthcoming Events
Date
Event Name/Venue
Description/Dance Styles
Dance Classes - Ceroc At Fowlmere
Ceroc Fowlmere
Class
A night. At Ceroc is best described as jive social dancing with hints of Latin and Tango
Blues, Contemporary, Contemporary Blues, Blues Fusion, General Dance Fitness
Dance Classes - Ceroc Letchworth
Ceroc Letchworth
Class
A night at Ceroc is best described as jive social dancing with hints of Latin and Tango
Blues, Contemporary, Contemporary Blues, Blues Fusion, General Dance Fitness
Dance Classes -Ceroc Storey's Field
Storey's Field Centre
Class
A night at Ceroc is best described as jive social dancing with hints of Latin and Tango
Blues, Contemporary, Contemporary Blues, Blues Fusion, General Dance Fitness
Dance Classes - Ceroc St Neots
Priory Centre - St Neots
Class
Ceroc is best described as jive social dancing with hints of Latin and Tango
Blues, Contemporary, Contemporary Blues, Blues Fusion, General Dance Fitness
Dance Classes - Ceroc At Fowlmere
Ceroc Fowlmere
Class
A night. At Ceroc is best described as jive social dancing with hints of Latin and Tango
Blues, Contemporary, Contemporary Blues, Blues Fusion, General Dance Fitness
Dance Classes - Ceroc Letchworth
Ceroc Letchworth
Class
A night at Ceroc is best described as jive social dancing with hints of Latin and Tango
Blues, Contemporary, Contemporary Blues, Blues Fusion, General Dance Fitness
Dance Classes -Ceroc Storey's Field
Storey's Field Centre
Class
A night at Ceroc is best described as jive social dancing with hints of Latin and Tango
Blues, Contemporary, Contemporary Blues, Blues Fusion, General Dance Fitness
Dance Classes - Ceroc St Neots
Priory Centre - St Neots
Class
Ceroc is best described as jive social dancing with hints of Latin and Tango
Blues, Contemporary, Contemporary Blues, Blues Fusion, General Dance Fitness
Dance Classes - Ceroc At Fowlmere
Ceroc Fowlmere
Class
A night. At Ceroc is best described as jive social dancing with hints of Latin and Tango
Blues, Contemporary, Contemporary Blues, Blues Fusion, General Dance Fitness
Dance Classes - Ceroc Letchworth
Ceroc Letchworth
Class
A night at Ceroc is best described as jive social dancing with hints of Latin and Tango
Blues, Contemporary, Contemporary Blues, Blues Fusion, General Dance Fitness