Starlight Dancing
Starlight Dancing - Ballroom and Latin Dancing Professionals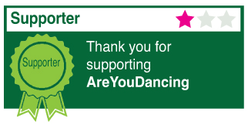 About Starlight Dancing
Have you ever watched Strictly Come Dancing and thought to yourself 'I wish I could do that'?... Well now is your chance!
Whether you would like to dance socially, competitively or just for fun, Starlight Dancing will get you moving from the moment you walk in.
No matter if you're an absolute beginner with two left feet or a natural mover who would like to perfect your skills, our team of dancing specialists will confidently be able to help you develop your dancing.
Contact Name: Christopher Burrell
Dance Styles: American Smooth, Argentine Tango, Cha Cha Cha (Ballroom), Foxtrot, Jive (Ballroom), Modern Tango, Paso Doble, Quickstep, Rumba, Samba, Popular Sequence, Viennese Waltz, Waltz, General Dance Fitness, Modern Sequence
Roles: Event Organiser, Dance Teacher, Regular Dance Classes, Wedding First Dance, Private Lessons, Child Classes, Dance Performance
Main Area: Essex
Website: http://www.starlightdancing.co.uk