Swing Shift
Weekly Lindy Hop classes in Christchurch & Tuckton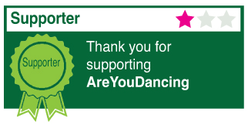 About Swing Shift
Dance Classes in Christchurch & Tuckton, with Swing Shift
Lindy Hop is one of the most popular forms of swing dance. Learn from scratch or add new moves, routines and polish to what you already know. Fun, friendly class. No partner needed. No experience needed.
Wednesdays
4-WEEK LINDY HOP BEGINNERS COURSE - 8.00–9.00pm
Followed by SOLO JAZZ DANCE Class - 9.15–10.00pm.
• £7 for either class or only £9 for both •
The New Church, (corner of Tuckton Rd / Carbery Ave), Tuckton BH6 3HT.
PARKING - Use church car park or street parking if full.
Course starts first Wednesday of every month. Don't worry if you miss a week, as we recap all the basics as we go.
Thursdays
LINDY HOP IMPROVERS 7.30–8.30pm
LINDY HOP INTERMEDIATE/ADVANCED 8.45pm-9.45pm
• £7 for either class or only £9 for both •
The Royal British Legion, 61-63 Bargates, Christchurch (Rear entrance, upstairs).
PARKING - Small car park at rear or use nearby car park or street parking.
Find us on Facebook or visit our website for latest information.
Contact Name: Martin Chilvers / Tash Guildford
Dance Styles: Lindy Hop
Roles: Regular Dance Classes
Events: Class
Main Area: Bournemouth
Website: http://swingshift.dance