La La Dance
Power, poise, energy, elegance, and above all FUN - come and learn to dance with La La Dance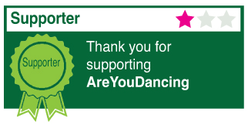 About La La Dance
Power, poise, energy, elegance, atmosphere, ambiance, sophistication, and above all FUN - come and learn to dance with La La Dance.
Dance tuition - Scheduled Weekly Group Classes currently on Mondays, Tuesdays and Saturdays. Call for details.
Dance tuition - 1 to 1, or 1 to couple private lessons by arrangement, evenings and weekends. The first lesson is complimentary. Call to discuss.
Tailored Learning Programs from beginner to advanced.
All standard Ballroom and Latin dances as well as Salsa, Bachata, Mambo, Argentine Tango and Specialist Dances.
Wedding Dances with a wow factor.
Various locations in North London and Hertfordshire.
Contact Name: Elena Cataeva
Dance Styles: American Smooth, Argentine Tango, Bachata, Cha Cha Cha (Ballroom), Charleston, Contemporary, East Coast Swing, Foxtrot, Freestyle, Jive (Ballroom), Lindy Hop, Mambo, Merengue, Modern Tango, Partner (with Disability), Paso Doble, Quickstep, Rumba, Salsa, Samba, Viennese Waltz, Waltz, West Coast Swing, Zumba
Roles: Event Organiser, Dance Teacher, Regular Dance Classes, Wedding First Dance, Private Lessons, Child Classes, Dance Performance, Therapy/Massage
Events: Class
Main Area: Hertfordshire
Website: http://www.laladance.co.uk
Forthcoming Events
Date
Event Name/Venue
Description/Dance Styles
Ballroom and Latin Class
The Venue Leisure Centre Borehamwood
Class
Ballroom and Latin Beginners/Improvers Class
American Smooth, Cha Cha Cha (Ballroom), East Coast Swing, Foxtrot, Jive (Ballroom), Modern Tango, Paso Doble, Quickstep, Rumba, Viennese Waltz, Waltz, West Coast Swing
Ballroom and Latin Class
The Venue Leisure Centre Borehamwood
Class
Ballroom and Latin Beginners/Improvers Class
American Smooth, Cha Cha Cha (Ballroom), East Coast Swing, Foxtrot, Jive (Ballroom), Modern Tango, Paso Doble, Quickstep, Rumba, Viennese Waltz, Waltz, West Coast Swing