The Polka Dots
The Polka Dots is a barn/country dance band playing traditional music, with caller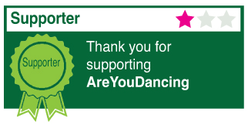 About The Polka Dots
The Polka Dots is a well-established 3 or 4 piece barn/country/ceilidh dance band playing traditional tunes originating from England, Scotland, France and America.
Instrumentation includes a core of melodeon, concertina, and keyboard with some clarinet, recorder and guitar.
Janet Porter, the dance caller has 20 years experience calling for all abilities from children and adults with learning disabilities through to dance clubs including American style contra at Leeds Contra.
Janet (aka Mrs Porter) and The Polka Dots have run dances for many years, for private parties, weddings, country dance clubs, adults with disabilities and family ceilidhs.
These include The Day of Dance at Saltaire, Heatherdene Folk Dance Club in Harrogate, the Ryburn 3 Step ceiidhs at Waring Green, Highside Country Dance Club Littleborough, and Yarm Country Dance Club.
They also run themed dances including St Patrick's, Burns Nights, Hoedowns, and Yorkshire Neets.
Contact Name: janet porter
Dance Styles: Barn Dance, Country Dance, English Ceilidh
Roles: Band/Soloist
Main Area: West Yorkshire
Website: http://mrsporter.co.uk