52nd Street Jump
Caron and Steve Mason teach Lindy Hop and Balboa in Louth, Lincoln and North Thoresby.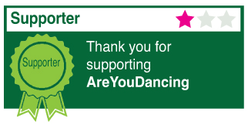 About 52nd Street Jump
Now teaching classes in Lindy Hop & Balboa in Lincoln and Louth, 52nd Street Jump began in 2005 when we were teaching in West Sussex and Central London. Within a couple of years, we had added successful classes in Surrey and South East London. Between 2005 - 2009, we taught The Foundation Course in Lindy Hop at Covent Garden's Pineapple Dance Studios .  Through this course and our other regular classes we introduced hundreds of people to the Lindy Hop scene, teaching them their first steps.  Many of these dancers can be seen today around the country, some as teachers and performers.
When we moved to Lincolnshire in 2010, we expected to reduce our commitment to dance teaching and events. The call of Lindy Hop is hard to resist though and we decided to start The Louth Lindy Hop Club in 2011. In July 2017, it became clear that Lincoln needed a Lindy Hop club and Lincoln Lindy Hop club began shortly afterwards. Over time we added regular Balboa classes.
Throughout all our time teaching and running events we have aimed to provide high quality, informative classes which enable anyone to learn to dance.  Most of all, we find teaching a pleasure and we hope that the fun we experience when teaching comes through in our classes!
In addition to teaching regular classes, we have extensive experience in teaching workshops for private organisations, schools and dance studios; teaching private classes and running events. We can also supply high quality DJing for dancers and events.
Contact Name: Caron and Steve
Dance Styles: 1940s Jive, Balboa, Boogie Woogie, Charleston, Collegiate Shag, Jazz Steps, Lindy Hop, Rock n Roll
Roles: Event Organiser, Dance Teacher, Regular Dance Classes, Wedding First Dance, Private Lessons, Child Classes, DJ, Caller, Dance Performance
Main Area: Lincolnshire
Website: http://www.52ndstreetjump.co.uk